Alabama Pet Adoption Interview
We are pleased to share this Alabama Pet Adoption Interview with our visitors. We have been researching places to adopt a pet in Alabama and found this great dog rescue.
Alabama Pet Adoption Interview With A Litter at A Time Rescue
We approached Laurie from A Litter at a Time to request an interview about the rescue and about pet adoption in Alabama.
Laurie was quick to respond and gave a great interview. My favorite quote in the interview is "By the way, these guys are very thankful to their rescuer. They know they were not in a great place. It only takes a look into their eyes to know they understand that." She means how much each dog appreciates its new owner.
You may not be familiar with the term "pull" that Laurie uses in the interview. This is a term used by rescues and means that the rescue has taken the dog from the shelter. Not as an adoption, but to adopt it out by the rescue. Doing this saves lives. You'll see what I mean when you read the interview.
If you run a rescue or shelter we are interested in hearing from you. We are interested in conducting a couple more Alabama Pet Adoption Interviews as well. Please use the form on this page: alabama pet adoption to get in touch.
Here's our first Alabama Pet Adoption Interview
1. I see that your rescue got started in April 2007. Can you tell us why you decided to form a rescue and how you got started?
Three of us ladies saw a need and did something about it. (There are four of us board members now) A lot of puppies are overlooked in the shelter because they don't "look" like they have a pedigree. There are many breed specific rescues out there. These rescues pull dogs that only look like the breed they deal with. Suppose momma golden had 5 little babies and 1 baby looked like daddy- the traveling man. Momma and "golden" babies are taken and the "ugly duckling baby" is left behind.
Also, many rescues don't like pulling puppies because it is costly. Puppies, just like babies need vaccinations against diseases. Shelters are full of those diseases. Many puppies get sick and die in the shelter. Many that we pull get sick and die. But, they die in someone's arms- not alone on a cold concrete floor. We've had many, many sick puppies that we have nursed back to health. We've had many that did not make it- those break our hearts. We pull the entire litter, it doesn't matter to us what they look like.
We also pull pregnant and nursing mommas. We recently found out that we may be the only rescue around that pulls those mommas. We will also take in orphaned babies that require bottle feeding. An example: about 3 months ago we got a call from a veterinarian's office- someone had dropped off 6 orphaned newborn puppies. They had called 3 local rescues- all which turned them down- one even told them to euthanize them. All three rescues said: "we don't have the time." Luckily, for the pups, they called us. We took them in and they are some of the pictures attached.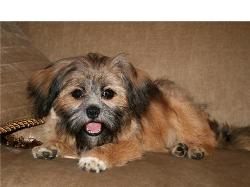 2. Where do most of your dogs come from?
We mainly pull from the rural shelters that do not have a lot of money or big adoption programs and other rescues don't pull from. We also pull from the local Animal Control facility in Birmingham.
3. What have been your biggest challenges so far?
Vet bills and the lack of foster homes. Once everyone knows you pull puppies we get bombarded by requests to take in puppies. Unfortunately, since we do not have a facility, foster homes are very important. The vet bills can be costly when you have an entire litter that is sick. We do have local vets that work with us- they give us rescue prices. But, even at that when you are dealing with lots of puppies it can become costly.
4. I see you are looking for foster homes. What do you look for in a foster home and what is the commitment?
We look for loving, caring animal lovers. A foster home has to be someone we would let adopt one of our dogs. They have to be willing to treat this puppy or momma as if it were their own animal. We ask them to feed, love, play and begin training (leash, crate, housebreaking) the animal according to their schedule and abilities. We do all the vetting of the animal. The only cost to the foster home is the food and whatever toys or "extras" they want to buy. Many of our foster families adopt their foster dog.
The length of time a foster family has an animal depends on what they are fostering. Typically, if it is a puppy or puppies it will be at least 6 weeks. We require each puppy to have three puppy shots before adoption, these are 3 weeks apart. The first one being given the day they are pulled from the shelter. If it is a momma dog it really varies. It depends on whether she is pregnant, already nursing, or is weaning her pups when she goes into the foster home.
We do partner with Loyal Heart Puppy Rescue in New Gloucester, Maine. Any animals we have in the program that is having a hard time being adopted locally is posted on their website. Since the NE area has such strict spay neuter laws, they do not have puppies to adopt. These families treat their animals as part of their family. So, after a NE family adopts one of our babies we transport them up there by Rescue Riders Transport.
5. Do you screen the people that you are adopting to? Why do you do it?
Yes. Each potential adopter (this also goes for the NE families) has to fill out an adoption application. This application is then reviewed by at least two and sometimes three board members. During this process, a board member will call the potential adopters veterinarian reference to ask questions. If the potential adopter does not have any current pets and therefore no vet, we skip this step and may ask for a personal reference instead. The board member who called the vet will then call the potential adopter and ask any questions they may have regarding what information they received from the vet's office. They will also ask them other questions and get a "feel" for them. After this call, they will then pass them usually to me. I will then give them a second call to either discuss any concerns the first board member may have or questions I may have. During this call, they are then told whether they can adopt or not. But honestly, if they have made it this far then it is usually a go. :)) We then have a meeting between adopter and puppy and if seems well then they are able to take their new baby home. We visit some adopter's homes and others we do not. It really depends on that "feel."
We do all this to make sure that our "baby" is going to have a great home. We each feel personally responsible for this animal's future safety and their life. We don't want to give anyone an animal that we would not send one of our kids home with. :)) I know this may sound like we are very picky or that we may be nuts. But we look at it this way: we "rescued" this animal from a terrible situation, why would we want to put it back into the same kind of situation? That just doesn't make any sense.
6. What do you think are the biggest benefits of adopting from a rescue like yours?
It's a win-win situation:
You save two lives!! Think about it this way, this animal was on death row, we pulled it out and you give it a wonderful life. Not only did you save the one you adopt- you save a second one and you don't even have to live with it. :)) Because when you adopt an animal from us you then open a place for another one from the shelter!
By the way, these guys are very thankful to their rescuer. They know they were not in a great place. It only takes a look into their eyes to know they understand that.
7. Can you tell us anything about the pet overpopulation problem in Alabama? How bad is it there and how can people help?
Unfortunately, we have a many people who think "it's only a dog or it's only a cat." We have many people who do not think they should spay or neuter their animal, this of course leads to the overpopulation. Let me just give you some numbers: in one local shelter, (there are many here) that has an adoption program - adopts out about 1,000 pets a year. That sounds great, but that same shelter took in 10,000 animals that year.
What can people do? First, go to Montgomery and get into the ears of the good ol' boy politicians and get some laws enforced. You see, we have laws on the books but they are not enforced. Maybe they need to be more strict, I am not sure. But, they definitely need to be enforced.
Secondly, change the thought pattern of the public. Campaign to make them understand what a responsible pet owner needs to do. What's best for the animals. Most importantly, make them understand what the shelters are truly like. I believe that the general public does not understand or even have a clue that when you drop an animal off at the shelter that animal most likely is not coming out. I think they have the preconceived idea that it WILL be adopted and that's just not true.
8. Is there anything else you would like to mention?
We are four ladies who each have full-time jobs and families. We do this in our free time. This alone is a full-time job. But, we are each personally rewarded each and every time a dog and their new family come together and people and dog are happy and excited. They each have a new beginning. It's a great feeling that makes your heart swell. We have had a hand in saving a life, making someone happy, and in the end we are helping our community. You can't ask for anything more.
Thanks for doing this interview on Alabama Pet Adoption Laurie!
- -
If you enjoyed this Alabama Pet Adoption Interview, and would like to know when other interviews come out, please sign up for our monthly e-zine (sign up is below)
If you are interested in learning more about A Litter At A Time Rescue, visit their website at www.alitteratatime.com. You can see the dogs they currently have available, make a donation or even consider fostering a dog.
Would you like to read other interviews? Please click here to read morePet Adoption Interviews (leaving this Alabama Pet Adoption Interview




Go to Adopt A Pet You Will Love home (leave the Alabama Pet Adoption Interview page)