Dog Adoption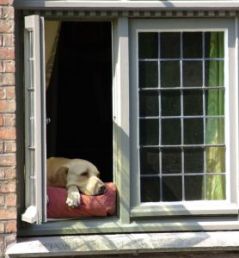 Dog Adoption can be one of life's best experiences. If you adopt a dog into your home it should become a part of your family. Just like any family member, your dog will create great memories, be there for you, and will be a source of fun times (hence the great memories).
Where Can You Adopt A Dog?
Animal Shelter
Adopting from an animal shelter is a wonderful idea. Do not be afraid to check your local shelter out. Many dogs end up in shelters for reasons that are not their fault. Often it is because of a change in the owners life (having to move, new job, illness, etc.).
Sometimes it is because the previous owner did not think carefully about the dog breed they were adopting. For instance, certain Types of Dog Breeds are very active and will not suit a family that is not able to exercise and train the pet daily.
My husband and I each had dogs adopted from an animal shelter when we were growing up. Each of us have wonderful memories of our childhood pet dogs. So I do not hesitate recommending checking out your local animal shelter to adopt a dog.
Dog Rescue Group
Dog Rescue is another great method of dog adoption. Animal shelters are often over flowing and as a result dog rescue groups take on the extra dogs. Adopting a rescue dog keeps dogs out of shelters that have policies to euthanize unwanted dogs.
Dogs found at rescue groups are frequently dogs that were abandoned, neglected and sometimes abused. So it is a good idea to spend time with the rescue group and with the dog(s) that you are considering for adoption.
You will likely find that the rescue group loves the dogs in their care and will want to make sure that you choose the best dog for your family.
Pet Store
I have worked in Pet stores for many years. Many pet stores sell dogs – but I can't claim to know this part of the business inside and out. A common concern about pet stores is that the puppies are from puppy mills. It is hard to prove that this is true, or false. I do prefer buying purebred dogs from breeders for this very reason.
Dog Breeder
Most Dog Breeders are very passionate about their dogs and are in the business for the love of the dog breed. Of course, there are some that are just in it for the money. You'll be able to tell them apart right away.
If you want a pure bred dog this is the way to go. You can meet with the dog breeder to discuss if the breed of dog is best for you.
What To Do When Adopting a Dog?
There is a lot to do when you adopt a dog. You have to think about the supplies, toys, collars, food, training, preparing your family and overall adjustment to the household
How Much Does Dog Adoption Cost?
Adopting from a shelter or animal rescue may cost a couple of hundred dollars. This is especially true if the shelter takes care of medical procedures (i.e. spay and neutering) ahead of time. Beyond this there will still be veterinary bills plus the cost of food and other supplies.
Adopting from a Breeder could cost several hundred to a thousand dollars – depending on the popularity or rarity of the breed.
What Dog Breed should you Adopt?
It is important that you take your time when adopting a dog. Your new dog will be a part of the family for many years. So it is important to select the best breed for you. Take your time learning about different dog breeds and evaluate your household to see what characteristics of a dog. Find out about the
Most Popular Dog Breeds