About Adopt a Pet You Will Love
Adopt a Pet You Will Love is about pet adoption, pet rescue and in general finding the best pet for you.
I have owned dogs, cats, birds and other pets all of my life. I can't imagine not having a pet in my life. My pets are like my kids. So it breaks my heart knowing that there are unwanted pets and abused pets. I can't stand the idea that pets are euthanized in animal shelters all the time. Dogs just like my adorable puppy Mags end up in shelters simply because people adopt them without knowing what the breed is like.
Mags sure is cute isn't she? She is now 6 years old and is still a handful. She has endless energy and would not be the right pet for many people.
My goal for this site is to have fun building a helpful and educational rescource for pet lovers and future pet lovers.
The site is not about me so I apologize if you came here looking for my full life story - it's not here! I will tell you that I have worked in the pet industry for many years. I have worked in a dog daycare, a kennel, pet stores, and grooming shops. This experience has taught me that most people mean well when it comes to pet adoption. But people often adopt a pet for the wrong reasons.
Take my other dog Brodz. I rescued him from a family that got him from a breeder but didn't realize just how much energy a border collie has. They need alot of daily exercise and mental stimulation. When they don't get it they entertain themselves by sprinting through the house and chewing anything they can get at. The family I rescued him from had turned him out in the back yard for over a month. When I got him he was very thin, full of fleas and had worms. He also showed signs of having been hit because he would hide under a table and show his teeth whenever he felt threatened. I have had him for over a year and am happy to report that this behaviour is gone and he is the sweetest dog you will ever meet. He is two years old now and needs lots of time to run, wrestle with Mags and play catch.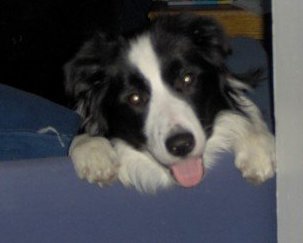 Adorable isn't he? That is him hanging over the back of our couch. 15 seconds after this picture was taken he was spring boarding off the couch and sprinting fast down our hallway - just for the fun of it. I don't encourage that behaviour, but it's what you get with certain breeds of dogs.
I love animals, and I loved creating this website. For those of you considering starting your first website, SBI! is an excellent choice. They are an ethical company, far different than the claims that competitors have made here: SiteSell , and you really do get a lot of help, support and tools to achieve success. If you have heard of SBI! and are wondering whether it's any good, I recommend it!
Adopt a Pet You Will Love E-zine
I hope you enjoy visiting this site. I encourage you to subscribe to our Adopt a Pet You Will Love Ezine so that we can keep in touch. Just fill in your email address in this form –
Have You Enjoyed This Site?
Have you enjoyed this site? If so, please share "Adopt A Pet You Will Love" with others who might like it too!
You can use the "share this page" tools at the bottom of this page to share it on your Social Networks. Sharing Adopt A Pet You Will Love helps to increase awareness of the benefits of pet adoption and the importance of getting the right pet.
If you happen to have a website or blog of your own, please consider placing a link to www.adopt-a-pet-you-will-love.com – Every link helps!
Leave About Adopt a Pet You Will Love and return home for articles and links to helpful pet adoption resources